Learn more about the basic principles of Pilates in Kansas City and then come to Pilates 1901 to put it all together!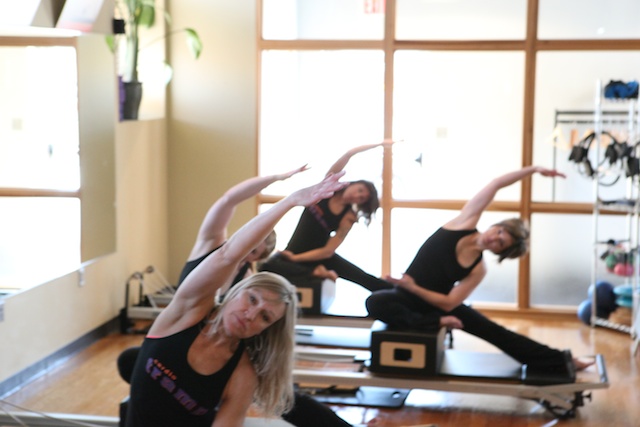 At the very foundation of Pilates, a fitness system founded by Joseph Pilates in the early 1900s, there are six key principles to learn and abide by in order to see incredible results: centering, concentration, control, precision, breathing, and flow. At Pilates 1901, we offer the best of Pilates in Kansas City to our clients who wish to change their body and their life. No matter if you are a Pilates beginner or are well versed in the basic principles, Pilates 1901's Pilates in Kansas City is the best option for you!
Here's a little bit more about those basic principles of Pilates in Kansas City:
Centering: Gaining total control of your body starts at the center. Pilates focuses on strengthening the core (abdomen, lower and upper back, hips, buttocks, and inner thighs), or "powerhouse" of the body, as this is the area where many Pilates exercises originate.
Concentration: Though Pilates is a physically demanding exercise, the best Pilates in Kansas City also demands intense mental focus. It is important for you to focus on what your entire body is doing at all time in order to gain maximum results from the exercises.
Control: Control is absolutely essential to your Pilates in Kansas City at Pilates 1901. If you cannot control your motions and movements, you are more prone to injury or you could see less positive results over time.
Precision: In order to properly practice Pilates, one must focus on performing the correct movements during a workout. The exercises and movements in Pilates will only produce results if they are done properly and a goal of Pilates is to make the movements second nature in order to carry them over into everyday life.
Breathing: Mr. Pilates himself emphasized using full breaths while exercising. Most of our Pilates in Kansas City is directly coordinated with complete, purposeful breathing, which properly delivers oxygen to the muscles being used and it assists in removing chemicals that may be stored in the muscles.
Flow: Dynamic, fluid movement is what Pilates is all about. Seamless transitions between exercises ensure that the entire body is engaged and performing gracefully and sufficiently.
Get the most out of your workouts with Pilates 1901's Pilates in Kansas City!
If you're ready to put the basic principles of Pilates to use and reap all the benefits, do not hesitate to book your classes and come to Pilates 1901 today!