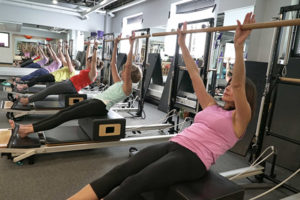 STOTT PILATES®, an internationally recognized and respected Pilates training organization, offers education and certification programs to empower instructors to motivate, challenge, and retain clients long term. And now you can participate locally, at Pilates 1901 AND registration is easier than ever. Make your reservations now from this page.
If you are traveling to Kansas City to study, please email us at info@pilates1901.com so we can recommend nearby hotels and restaurants for you. Kansas City is a beautiful little secret and we will be happy to share our city with you.
If you are just getting started, please look at the STOTT PILATES® Intensive Mat Reformer courses. These provide the foundation of your Pilates Instructor courses and are basic requirements for employment at most reputable studios.
Congratulations, you are embarking on a fabulous career. With STOTT PILATES®, you can't go wrong.
| Class Name | Dates | CECS | Price | |
| --- | --- | --- | --- | --- |
| Intensive Mat-Plus (IMP) | 2023 dates TBA | 4.0 STOTT PILATES® | $1,450.00 | |
| Non Refundable Deposit | Reserves Your Spot in Course | Payment Plans Arranged | $500.00 | |
| Class Name | Dates | CECS | Price | |
| --- | --- | --- | --- | --- |
| Intensive Reformer Training (IR) | November 2-5, 16-18, and December 1-3, 2023 | 5.0 STOTT PILATES® | $1,875.00 | Buy Now |
| Non Refundable Deposit | Reserves Your Spot in the Course | Payment Plans Arranged | $500.00 | Buy Now |
| Class Name | Dates | CECS | Price | |
| --- | --- | --- | --- | --- |
| Intensive Cadillac Only | 2023 DATES TBA | 2.5 STOTT PILATES® | $900.00 | |
| Intensive Chair Only | 2023 DATES TBA | 1.5 STOTT PILATES® | $600.00 | |
| Intensive Barrels Only | 2023 DATES TBA | 1.0 STOTT PILATES® | $400.00 | |
| Class Name | Dates | CECS | Price | |
| --- | --- | --- | --- | --- |
| STOTT PILATES® Advanced Stability Chair | November 19, 2023 9:00 am - 11:00 am | 0.2 CECs | $90.00 | Buy Now |
| STOTT PILATES® Athletic Conditioning on the Reformer, Level 4 | November 19, 2023 11:30 am - 1:30 pm | 0.2 CECs | $90.00 | Buy Now |
| STOTT PILATES® Athletic Conditioning on the Arc Barrel | November 19, 2023 2:00 pm - 4:00 pm | 0.2 CECs | $90.00 | Buy Now |
| Take all 3 CEC Workshops and Save! | November 19, 2023 9:00 am - 4:00 pm | 6.0 CECs | $225.00 | Buy Now |