---
Pilates 1901 features one of our amazing clients as our Pilates Peep of the Month.  Our December Peep of the Month is Dr. Regina Nouhan.
---
Dr. Nouhan, a plastic, and reconstructive surgeon is originally from St. Louis but has made Kansas City her much-loved home for the last 26 years.  In addition to a fondness for art, music, and good food, Regina loves Pilates!  She's become a regular at 1901 for the past seven years.
When asked about her commitment, Regina said, "I always appreciate both the physical challenge and the creative excellence of the instructors.  I've also made some nice friends along the way!: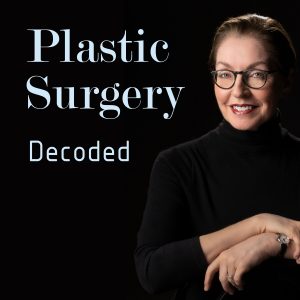 At the beginning of 2020, after a 25-year satisfying career, Regina retired from active practice, but still wanted a way to put her knowledge and experience to good use, to serve others. 
After years of volunteering for public radio and being told she has a "good radio voice," Regina came up with the idea that could merge her medical knowledge with her voice! 
The result is her new podcast called: Plastic Surgery Decoded. 
The podcast provides education and accessible explanations for listeners who to know more about the ever-expanding field of Plastic Surgery.  Happily, it appeals both to prospective patients and anyone else who is simply curious!
---
The podcast is available on all the popular platforms, or through her website:  www.plasticsurgerydecoded.com
---
Take a listen!
Plastic Surgery Decoded – Introduction – Episode 1
---

---
Thank you, Regina, for being an amazing client, friend, and educator.  We love you!