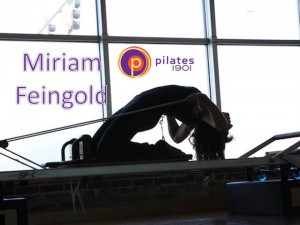 Pilates 1901 is in Kansas City's Premier Pilates and Fitness Studio because we have the most motivating and well trained instructors in the city!
Basic training to become a SP instructor requires over 90 hours training and another 80 hours internship-  just to get a chance to teach with us at Pilates 1901.  That means, your Pilates 1901 instructors are highly trained, motivated and uniquely qualified to ahelp you make your fitness goals come true!
Miriam Feingold came to Pilates 1901 through a mutual friend who knew my ex-partner Scott.  She was ready for a change in her work like and Pilates was the ticket.  An artist, Miriam brings her creativity and spirit to each client and class she teaches.  Although she has a pretty full schedule for personal clients, you can benefit from her instruction weekly as she teaches a variety of classes from Cardio Tramp to Tower to Zumba.
Check out this video, as Miriam demonstrates why her students love her Zumba workouts- offered each Tuesday evening at 6:00pm.  Our June Move of the Month, the Salsa, is a fun and simple way to burn calories, sweat and tone your entire body.  Be sure to watch the video all the way to the end to see just how exciting doing Zumba can be!

Miriam Feingold Shows Us wWhy She's our Pilates 1901 Trainer of the Month from Tina Sprinkle on Vimeo.
Can you see why we're so proud of our team at Pilates 1901?  It truly doesn't get any better!
Let us help you get into the best shape of your life. Click here for more information on getting started with us today!