What is Pilates?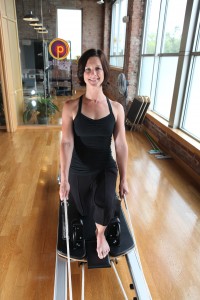 Pilates is a series of nonimpact exercises designed by Joseph Pilates to develop strength, flexibility, balance and connection to your inner core.
People of any fitness level can benefit from and transform their bodies through Pilates. It also can be helpful in preventing and rehabilitating from injuries, improving posture, increasing flexibility, circulation and balance.
According to Joseph Pilates, "You will feel better in 10 sessions, look better in 20 sessions and have a completely new body in 30 sessions." The end result is a stronger, leaner, taller looking body that is ready to do the things we want to do as we age. It truly is the foundation of youth.
How do I get started?
There are three great ways for you to Get Started:

Private Training
Mat/Basic Classes
Health Coaching

As soon as you sign up, we will contact you to set up your first private training sessions, 30 minute mat/basic class or health coaching sessions.
Please call us with any questions 913.499.7510.
Why Do I Need To Do the Introductory Pilates Sessions or Basic 5 Intro program?
Even if you have taken mat or Reformer classes elsewhere, it is a valuable experience to re-examine your strengths and weaknesses and re-learn about your body's alignment in movement.
These introductory sessions will help you get the most out of the group classes at Pilates 1901.
If you have extensive Pilates experience, we still require you do one of the Introductory packages (pricing is great for new clients). If the instructor feels you are competent enough to go into groups within a session or two, we will shorten your series and credit your account.
What Happens After My Introductory Sessions?
Once you have seen and felt the benefits of Pilates introductory training, you may discuss becoming a Member of Pilates1901.
As a Pilates 1901 Member you will receive many perks, including reduced class fees, preferred reservations and open use of the cardio equipment.
We have packages for every price range at Pilates 1901.Click here for information on our class package fees.
What Should I Wear?
Wear comfortable yet form-fitting exercise clothes which helps the instructors make sure you are performing the exercises in the proper alignment.
We advise that you do not wear loose or "short" shorts as many of the exercises are done with your legs open and elevated.
You may exercise in either your bare feet or stocking feet.
How Many Times Per Week Should I Do Pilates?
Most of our clients come 2x a week.
However, some come 1x and others have worked up to doing Pilates every single day. There is no "day on, day off" schedule.
We have package options for every goal, taste and budget so sign up today to benefit from the infinite variety of Pilates based cardio, mat and equipment classes and training. Come as often as you are able; we would love to see you.
What is the Difference Between Mat & Reformer Work?
Pilates Mat – When you do Pilates on the mat, you must support your body weight through the movements, which may make the work more difficult. However, the mat work is a great way to make sure you really understand your body and the principles of Pilates.
Pilates Reformer – When you work out on the reformer (a piece of equipment designed by Joseph Pilates in the early 1900s), your movements and the weight of your body are supported by the smooth movement of the machine along the carriage as well as by a system of straps for the arms and legs. This means some exercises may be aided by the equipment while others may be made more challenging.
Recommendation: A combination of both mat and equipment training to optimize your results.
How Quickly Will I See Results?
Joseph Pilates said that "you'll feel better in 10 sessions, look better in 20 and have a whole new body in 30 sessions."
Most of our clients have found this to be true and many start seeing results right away. Perhaps more important, our clients feel better almost instantly which keeps them coming back for more.
Pilates can also help to relieve chronic back pain, knee and joint pain.
What is the Difference Between Pilates and Weight Training?
The difference is that you strengthen AND stretch various muscles during Pilates exercises.

Example: You may be doing an exercise for the back, lying on the stomach pulling the ropes down and back. But that's not all that's going on. You must point the toes and stretch the knees to elongate the leg muscles, tighten the glutes, which firms the buttocks, and lift the upper body, which strengthens the lower back. As you reach forward between repetitions, you stretch the back and shoulders. Or you may be kneeling facing forward to perform an exercise similar to a chest fly. Because you are kneeling, you must contract the abdominals, glutes and quadriceps for stabilization. You have a greater range of motion on the return than you would on a chest butterfly machine, which increases chest and shoulder flexibility.

The bottom line is Pilates typically incorporates more muscles utilized in one exercise in comparison to a weight training machine.
Further, Pilates creates better functional movement and performance than weight training because of the coordinated exercises and concentration on the core muscles.
What If I Am Overweight?
Pilates is a wonderful program for those who are starting or already engaged in a weight loss program.
You will learn to activate and move your body safely utilizing your muscles rather than your joints and will be better able to engage in other physical fitness activities.
Pilates 1901 works to create a warm and welcoming environment that can be far less intimidating than some gyms. In fact, our T School program has helped hundreds of people reach the fat loss goals they had all but given up on. Check out a few success stories. (link this to the Testimonials/Before & After page
Do Men Benefit From Pilates?
YES – Remember: Pilates was created by a man and was later adapted for women.
Men generally have less flexibility and a greater degree of upper body strength than women so Pilates helps to create longer, more agile muscles as well as to counter-strengthen in the core and lower body.
At Pilates, 1901 our male clientele is fast growing. From CEO's and semi-professional athletes to men recovering from injuries or punishing exercise habits, Pilates helps both men and women retrain and re-strengthen the body for optimum performance. According to USA Today, male athletes are using Pilates to increase performance. Click here to read more.
Why Come to A Pilates Studio?
Pilates is the fastest growing segment of the fitness industry. And that means that there are a lot of new teachers working in the field, some of them having received only a few hours of training.
At a Pilates studio, you can be sure that the focus is on Pilates. Pilates 1901 expert team (link to Meet the Team) is trained by internationally recognized STATT Pilates and other disciplines to ensure our students achieve their goals effectively and safely.
Note: If you are taking Pilates where the instruction is more about counting out repetitions than explaining what you should be feeling in your body and how you can help engage specific muscles, then you aren't receiving good instruction in Pilates. If you are doing more than 10-12 repetitions of any one exercise, you are most likely not doing Pilates but rather some altered form of it. If you are not concentrating on your breathing, you are not doing Pilates. If you are not focusing on the quality of your movements, you are not doing Pilates. This is not to say you can't benefit from the work you are doing; it just isn't Pilates.
What if I purchased a Groupon?
Do you have questions we haven't answered?
We're here to help! Call us at 913 499 7510 or email us at info@pilates1901.com today!