Many thanks to my friends at KCLIVE for welcoming me every other Thursday morning to discuss what we can do each day to be proactive, healthy,  and happy!   I am so grateful for the opportunity to share!
This week we talked about just how many calories and fat
are REALLY in that Thanksgiving dinner.

Here's what wasn't on the show:
The average Thanksgiving dinner contains over 770 grams of fat and 6600 calories.  That's alot when you consider the average recommended calories per day for a man is 24oo kcal and 1800 kcal for a woman.  That's not going to send you to the fat farm but over eating is always stressful on your body and your digestion.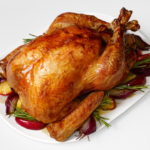 Even if you are trying to eat moderately, you'll find that it's difficult since Thanksgiving is such a carb heavy holiday.
Turkey  (two to three slices)    This is a good low carb option but still has about 425 calories
Dressing.  Once up of stuffing has 42 grams of carbohydrate and around 320 calories.
Mashed potatoes and gravy (one cup potato and 1/4 cup gravy) have 43 grams of carbohydrate and 450 calories
Green bean casserole is lower in carbs and calories at 17 grams and 160 calories
Sweet potato casserole with marshmallows will kick your butt with a whopping 130 grams of carbs and over 600 calories per serving.
Cranberry sauce seems innocent enough but even it contains 22 grams of carbohydrate and 89 calories per slice/serving.
Do the math and we haven't even talked about wine or dessert yet!
Pumpkin pie  has 41 grams of carbohydrate and 316 calories per slice and pecan pie (without ice cream) has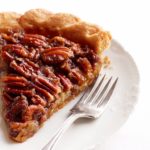 over 64 grams of carbohydrates and 500+ calories per serving.
Tips for managing your Holiday eating…
Substitute other root vegetables for potatoes.  They are lower in carbs and are surprisingly delicious and filling! We're talking rutabaga turnips and mashed cauliflower.
Fill up on turkey and green veggies before choosing higher calorie/carb offerings
Add more onion and celery to your dressing to make it less dense.
Make your own cranberry sauce using less sugar or sugar substitute. Less sugar in cranberry sauce
Skip the marshmallows completely.
Consider making a fruit cobbler instead of pie.
Don't forget that liquid calories count!
Have a plan before you sit down to eat.
Eat before the feast if it is later in the day.
Workout before or after you eat.
And finally, remember what the day is about…. being grateful and spending time with your loved ones- not sweating and laid out on the couch from gorging yourself.
Join us at Pilates 1901 for our 2018 Earn Your Bird Workouts.  They're FREE but will fill quickly.