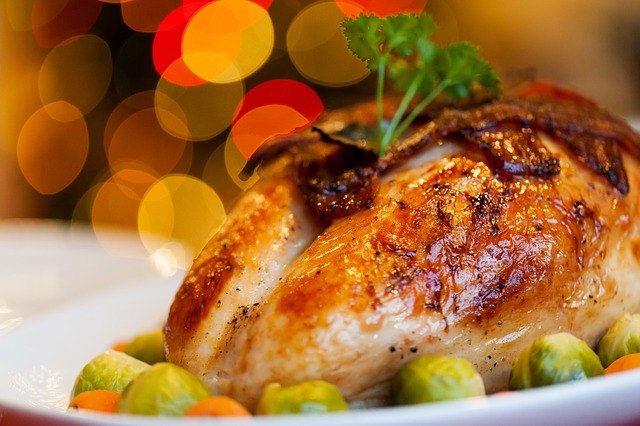 Are you a little nervous about maintaining your mindful diet during the holidays? Luckily, there are TONS of incredible holiday recipes that will keep you on track and healthy…and the rest of your family probably won't even notice! This article from BuzzFeed.com and this one from AgirlWorthSaving.net offer some great options. Below are a couple of our favorites we think you and your family will enjoy!
Caramelized Onion & Sausage Stuffing from PaleOMG.com
Ingredients:
1 lb ground pork sausage
2 yellow onions, sliced
1 sweet potato or yam
1 container of mushrooms, roughly chopped
2 tablespoons white wine vinegar
1 cup pecans, chopped
2 eggs, beaten
½ cup chicken broth
1 tablespoon fresh rosemary, chopped
1 tablespoon fresh thyme, chopped
2 tablespoons fat of choice
1 garlic clove, minced
salt and pepper, to taste
Directions:
Preheat oven to 375 degrees. Place diced sweet potatoes/yams on foil-covered baking sheet. Sprinkle with olive oil, salt, and pepper. Bake for 15-20 minutes until sweet potatoes are tender. Set aside.
While the sweet potatoes/yams are cooking, place a large skillet on medium-high heat and add a tablespoon of fat, the garlic, and the mushrooms. Add salt and pepper and cook until soft, then transfer to a large bowl.
Turn the heat down to medium and add a another tablespoon of fat to the skillet. Add the sliced onions and stir to coat them with the fat. Stir frequently until the onions have caramelized, about 10-15 minutes. Add a bit of salt and pepper to taste and set aside.
Add the sausage to the skillet and use a wooden spoon to break it up a bit. Cook until almost cooked through. Add the sausage to the large bowl.
Beat the eggs and add them to the sausage mixture. Add the chicken broth and vinegar, along with the sweet potatoes, pecans, and chopped herbs. Mix well.
Place the stuffing in a 9×13 inch baking dish or on a foil-lined baking sheet.
Bake at 375 degrees for about 10 minutes, then add the caramelized onions and cook for 5 more minutes.
Stuff your face with this delicious stuffing.
Brined Turkey and Gluten-Free Gravy from GutsByNature.com
Ingredients:
1 ½ cups kosher salt
2 gallons filtered water
1 turkey, preferably pasture raised
2 medium onions
4 stalks of celery
4 carrots
1 bunch of fresh sage
1 bunch of fresh rosemary
1 large lemon, cut into quarters
4 cloves of garlic, peeled
1 cup of water
¼ cup of ghee or preferred solid fat (melted)
Directions:
Dissolve the salt in the water in a large pot over low heat. Once salt is dissolved, place in refrigerator for at least two hours or until completely cold.
Rinse turkey, removing neck and giblets and reserving for another use. Place turkey in a large vessel for brining, add liquid, and place in refrigerator (or keep cold with ice – see above) for 8 hours.
Remove turkey from brine and rinse thoroughly. Pat dry with paper towels, place on wire rack over cookie sheet and put in refrigerator uncovered to dry for at least 6 hours.
Remove turkey from refrigerator about 1 hour before roasting.
Preheat oven to 450 degrees.
Cut vegetables into large chunks. Scatter half of the vegetables in the roasting pan and add 1 cup water.
Stuff cavity of turkey with remaining vegetables, herbs, lemon, and garlic.
Truss with cooking twine and place turkey on roasting rack with the breast side down. Drizzle about half of the coconut oil (or ghee or butter) over the skin of the turkey.
Place in oven and roast without opening the door for 40 minutes.
Remove turkey from oven. Using wadded up paper towels, carefully rotate the turkey so that it is breast side up.
Drizzle with remaining coconut oil (or ghee or butter) and return to oven for 20 minutes.
Reduce oven temperature to 325 degrees. Use an instant read thermometer to monitor the temperature and remove from oven when turkey thigh has reached 170 degrees. For a 19 pound turkey, this stage took 90 minutes but oven temperatures and other conditions will cause this to vary.
Set turkey aside to rest at room temperature for at least 30 minutes, while you make the gravy.
Remove vegetables with a slotted spoon and set aside. Separate the fat from the drippings (some fat will remain and get incorporated into the drippings, but if you don't remove at least some of the excess your gravy will be unpalatably greasy).
Put vegetables and drippings into a blender (or use an immersion blender) and puree until smooth. Place gravy into a sauce pan and let simmer while you carve the turkey.
Adjust seasonings if necessary and adjust thickness by adding more water or broth if necessary. Serve gravy piping hot.