There's been a lot of debate in the news lately about vitamin D and sunscreen.  Does sunscreen rob us of our ability to synthesize Vitamin D? What are the risks of Vitamin D deficiency? And if we choose to use sunscreen how do we know which ones are effective and safe?  Here's some information to help you make an informed decision.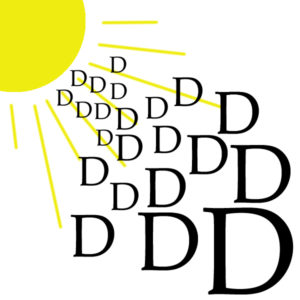 Sun and Vitamin D (the Sunshine Vitamin)
Vitamin D isn't like other vitamins; it's actually more like a hormone. Your body can't make vitamins — you need to obtain them from foods that you eat.  Fatty fish like tuna, salmon, and mackerel are among the best sources of vitamin D. Beef liver, cheese, egg yolks, and mushrooms also provide small amounts. But it's very difficult to obtain all your vitamin D needs through food alone.
Unlike most of the other vitamins, the majority of the body's supply of Vitamin D does not come from food but is produced in our skin when we are exposed to ultraviolet light from the Sun. Exposure to the sun is the best way to get your vitamin D, around 90 percent of our total supply of Vitamin D is obtained in this way.
Several studies show that those who shun the rays are at much greater risk of developing vitamin D deficiencies.
Vitamin D deficiency: (not just about bone health) Increased risk of cancer, diabetes, heart disease, high blood pressure, lung disease, osteoporosis, MS, and schizophrenia.
Nearly 1 billion people around the world aren't, and it may be due to chronic disease or lack of exposure to the sun.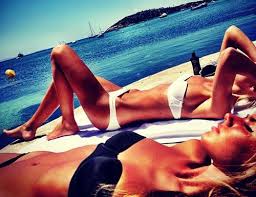 How much time in the sun do we need?
Several experts suggest that as little as five to 10 minutes of unprotected UV exposure from the sun two to three times a week is enough to prevent vitamin D deficiency. However, this also depends on pigment (melanin) in your skin: light skin or dark skin- 15 min for light skin and up to two hours for dark-skinned people.
Our skin reacts to mild doses of UV radiation by increasing the amount of protective melanin in the skin's outer layers.  Melanin is a pigment that is able to absorb light and dissipate 99.9% of absorbed UV radiation, and it is, therefore, able to reduce the risk of malignant melanoma, the most dangerous form of skin cancer.
Studies show that individuals with more concentrated melanin (darker skin tones) have lower incidences of skin cancer.
SPF- How much is enough?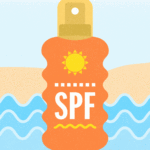 A sunscreen's SPF, or sun protection factor, measures how much the product shields the sun's shorter-wave ultraviolet B rays, known as UVB radiation, which can cause sunburn and non-melanoma skin cancers.
Ultraviolet A rays penetrate deeper into the skin and are harder to block with sunscreen ingredients approved by the federal Food and Drug Administration for use in U.S. sunscreens. UVA exposure suppresses the immune system, causes harmful free radicals to form in the skin and is associated with higher risk of developing melanoma.
A sunscreen lotion's SPF rating has little to do with the product's ability to shield the skin from UVA rays. As a result of the FDA's restrictions on ingredients and concentrations, U.S. sunscreens offer far less protection against UVA than UVB rays, and this is worst for those products with the highest SPF values. Because UVA and UVB protection do not harmonize, high-SPF products suppress sunburn much more effectively than other types of sun damage.
Twenty years ago, 15 was the highest SPF. Then, 30 became the standard.  Now we also have 50, 75 and that 100 SPF choices.  But what does that mean exactly?  It might be natural to think applying 100 SPF would give you the greatest protection, meaning you only have to apply it once. but that is not true.  In fact, misapplication of any sunscreen is the most common mistake we make regarding SPF.
The actual difference in UVB protection is marginal:
SPF 100 blocks 99 percent of UVB rays,
SPF 30, deflecting 97 percent
SPF 15 blocks out 93 percent of UVB rays.
In theory, the higher SPF enables you to take more time before reapplying the sunscreen. The higher the SPF, the more time before you must reapply.  But because a lot of sunscreens rub off or don't stay put, dermatologists advise reapplication every two hours and immediately after swimming or sweating.
The key here is not the SPF, but how you're using sunscreen. Are you applying it right?
The amount you apply is also very important. To get the SPF on a bottle, you must apply the amount of a shot glass, r about an ounce. If you use half as much, you're getting half the SPF.  When you put it on is also important: Twenty minutes before sun exposure is ideal, not when you go outside and begin sweating or hop in the pool- water decreases the effectiveness of sunscreen.
Chemicals and Sunscreen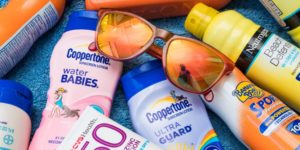 It is important to know that the active ingredients in sunscreens come in two forms, mineral and chemical filters.
Both seek to create a barrier between harmful UV rays and the skin, but one does it by creating a layer over the skin which is not absorbed (mineral) and the other creates a synthetic barrier which is absorbed into the skin acting as a synthetic melanin to dissipate harmful rays into waste heat.
It's important to be aware of these differences because the Food and Drug Administration has not reviewed evidence of potential hazards of sunscreen filters as it grandfathered in ingredients used in the late 1970s when it began to consider sunscreen safety.
The most common sunscreens on the market contain chemical filters.
These products typically include a combination of two to six of the following active ingredients: oxybenzone, avobenzone, octisalate, octocrylene, homosalate and octinoxate.
Parabens are another common culprit found in the typical sunscreen. These increase the rate of breast cancer risk and interfere with male testosterone levels, but the most worrisome are Oxybenzone and retinyl palmitate (a type of vitamin A).
Retinyl palmitate can increase the rate of cancer in combination with UV-A rays but the most worrisome chemical is oxybenzone, which was added to nearly 65 percent of the non-mineral sunscreens and can cause allergic skin reactions and disrupt hormone balance.
On the other hand, mineral sunscreens use zinc oxide and/or titanium dioxide which are not absorbed into the skin, yet is photo-stable against both UV-A and UV-B.
Out of 800 sunscreens tested by the Environmental Working Group (EWG researches consumer products to allow us to make healthier consumer choices) only 25% were effective at protecting your skin without the use of potentially harmful ingredients.
What are our best sunscreen options?
The Environmental Working Group (EWG) suggests the best sun protection is avoiding prolonged exposure to the sun. Wear hats, sunglasses, UV blocking sun wear, and seek out shade.  If you can't avoid the sun, they've done exhaustive studies on the best and worst sunscreen options.  The following lists are for children since that is when we are most vulnerable to lasting skin and sun damage:

Best Sunscreen Options for kids (all mineral based products)
Adorable Baby Sunscreen, SPF 30+
All Good Kid's Sunscreen, SPF 30
Aveeno Baby Continuous Protection Lotion Sunscreen, Sensitive Skin, SPF 50
Badger Kids Sunscreen Cream, Tangerine & Vanilla, SPF 30
Bare Republic Mineral Sunscreen Lotion, Baby, SPF 50
Blue Lizard Australian Sunscreen, Baby, SPF 30+
BurnOut Kids Sunscreen, SPF 35
California Baby Calendula Sunscreen, SPF 30+
COOLA Suncare Baby Mineral Sunscreen Stick, SPF 50
Equate Baby Zinc Sunscreen Mineral Lotion, SPF 50
Goddess Garden Organics Kids Sport Natural Sunscreen Lotion, SPF 30
Hawaiian Sol Sol Kid Kare, SPF 50
Kiss My Face Organics Kids Mineral Sunscreen, SPF 30
MDSolarSciences KidCreme Mineral Sunscreen, SPF 40
Neutrogena Pure & Free Baby Sunscreen, SPF 50
Nurture My Body Baby Organic Sunscreen, SPF 32
Sunology Mineral Sunscreen, Kids, SPF 50
thinkbaby Sunscreen, SPF 50+
thinksport Kids Sunscreen, SPF 50+
Tom's of Maine Baby Sunscreen Lotion, SPF 30
TruBaby Water & Play Sunscreen, SPF 30+
TruKid Sunny Days Sport Sunscreen, SPF 30
Waxhead Sun Defense Baby Zinc Oxide Sunscreen, SPF 35 ()
Worst Sunscreen Options for Kids (all contain chemical components)
• Banana Boat Kids Continuous Spray Sunscreen, SPF 100
• Banana Boat Kids Sunscreen Lotion, SPF 100
• Coppertone Water Babies Foaming Lotion Sunscreen, SPF 70
• Coppertone Kids Sunscreen Continuous AccuSpray, SPF 70
• Coppertone Kids Sunscreen Continuous Spray, SPF 50
• Coppertone Wet'n Clear Kids Sunscreen Continuous Spray, SPF 50+
• Coppertone Water Babies Sunscreen Stick, SPF 55
• CVS Health Kids Clear Sunscreen Spray, SPF 50 & 70
• Equate Baby Sunscreen Lotion, SPF 70
• Neutrogena Pure & Free Baby Sunscreen, SPF 60
And here are some of the other worst overall offenders scoring in the Red Zone (7-10) for major safety concerns:
Panama Jack Sport Sunscreen Lotion, SPF 85
Neutrogena Sensitive Skin Sunscreen, SPF 60+
CVS Health Sun Lotion, SPF 60
Up & Up Sport Sunscreen Spray, SPF 15, 30 & 50
Panama Jack Sunscreen Continuous Spray, SPF 15, 30 & 70
NO-AD Sun Care Sport Continuous Spray Sunscreen, SPF 50
Neutrogena Wet Skin Sunscreen Spray, SPF 50 & 85+
Neutrogena Ultra Sheer Sunscreen Spray, SPF 30
Neutrogena Ultra Sheer Dry-Touch Sunscreen, SPF 70, 85+ & 100+
Neutrogena Ultra Sheer Dry-Touch Sunscreen, SPF 70, 85+ & 100+
For more information please visit:  https://www.ewg.org/sunscreen