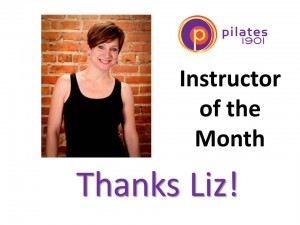 In case you haven't noticed, we have an exceptionally talented and giving staff at Pilates 1901.

Each month we're featuring one of our team so that you can get to know them a little better.    
This month we're happy to introduce you to one of our newer team members, Liz Reiter.  A busy Mom of two, a fiance and an ex-professional dancer, Liz is as kind and supportive as she is talented.  She's demonstrating our Move of the Month as well, the Pilates Mat, Side Bend.   Enjoy!

For more information on Liz or any of our other Pilates 1901 Team trainers, please click here. 
For information on Getting Started with our Introductory Private Session package, please click here!