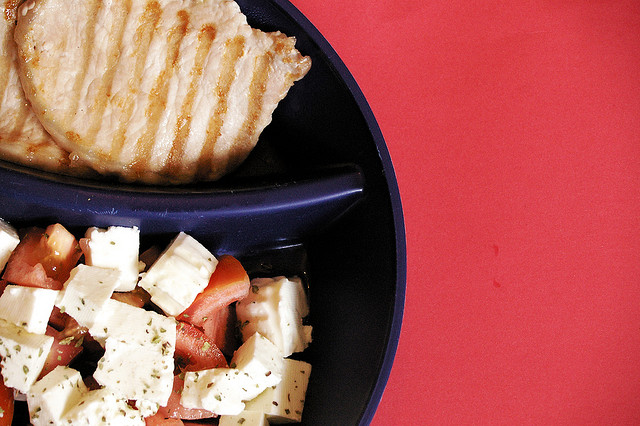 Last time we introduced the concept of Flexible Dieting, with some great information from Ted Kallmyer's book, Flexible Dieting: Lose Weight and Start Eating Again. So now you know about the 85/15 ratio, Total Daily Energy Expenditure, and calculating macros. However, working these concepts into our day-to-day lives can be the tricky part.
At the beginning, follow a meal plan.
Kallmyer's book offers a very helpful 10 day meal plan, which can assist you in getting started. Following a prescribed meal plan at the beginning of a new diet can be extremely beneficial. It helps to take the guesswork out of your meal planning, so you know that you are always making healthy choices that meet the goals of your diet. Keep in mind that the meal plan prescribed in the book is a general guide, and you may wish to adjust the ratios and amounts to fit your own dietary needs.
Try out some yummy flex-diet recipes!
There are some great recipes included in Kallmyer's book, all based on appropriate macro ratios. Try these recipes and you know you'll be staying on track with your flexible diet! Each recipe includes the number of calories, and the amount (in grams) of fat, carbs, fiber, net carbs, and protein. From the Spinach and Onion Omelet, to the Tuna and Kale Salad, the Grilled Chicken with Almond Alfredo, you won't go hungry and your taste buds will definitely be satisfied. The only thing easier than this is to order pre-made meals from a weekly meal delivery service.
Flexible dieting pairs well with…exercise!
One of the best things about including exercise in your flexible diet lifestyle is that, with the increased Total Daily Energy Expenditure, you get to eat more delicious foods! If you're already enrolled in T-School, then you've got this part of the plan covered!
Challenges of the Flexible Diet: What to look for.
While the flexible diet concept does eliminate many of the pitfalls of typical fad diets, you may experience some challenges on your journey…just like with any change in lifestyle! Keep in mind that this diet is not about depriving your body of food, so you may be surprised at the number of recommend calories you are asked to consume. Remember, your body needs calories to provide energy for your workouts, which are going to help you burn fat and gain muscle! Another aspect of the flexible diet that might take some time to get right is figuring out your exercise level. Luckily, you have devoted T-School coaches that can help you find the right balance between your workouts and your diet. That is what T-School is all about! You are never alone on your journey. Just contact your T-School coach or commiserate with your other T-Schoolers…we are all here to support you in your challenging moments and to celebrate your success!