Learn How GOOD it Feels to EAT CLEAN and GET LEAN.

Why do the Clean 21?
Looking for structure, support and motivation to get into the best shape of your life? This 3-week Detox gives you everything you need to change the way you eat, exercise for best results, and develop a new mindset and commitment to your healthy lifestyle.
How Does it Work?
Your Detox includes Yes & No Food Lists, Meal Plans, Pantry Guide, and Expert Coaching so you know EXACTLY what to eat and how to exercise to get your best RESULTS.
The entire program is based on eating clean, whole foods, and eliminating sugar, gluten and (if you choose) dairy to reduce inflammation to help your body and metabolism heal.
When Does it Start?

What's included in the Clean 21 Sugar Detox?
The Complete CLEAN 21 Sugar Detox Program Guide including Yes and No Food Lists, Sample Meal Plans, Pantry guide, Shopping lists and more!
Access to our T School Facebook Community to keep you motivated and accountable!
Two Group Body Composition Assessments to track your progress because numbers don't lie!  (January 19th and February 16th, 2019)
Two Workshops:
* January 19th:  Effective Goal Setting with Tina Sprinkle & Tricia Collins 12-1 pm
* February 16th:  The Magic of Loving What You Have with Nikki Crawford  12-1pm
Daily emails for the duration of the program to help keep you focused.
Four Weekly Group Health Coaching Sessions on Wednesday evenings:

Wednesday, January 16th:    Whole Foods Grocery Tour (Prep Week)
Wednesday, January 23rd:   Simple One Pot Meal Prep
Wednesday, January 30th:   Less for More: High-Efficiency Exercise
Wednesday, February 6th:    The Habit of Change
Unparalleled support, encouragement, and education at Pilates 1901!
An amazing and life-changing community of like-minded people who genuinely support one another!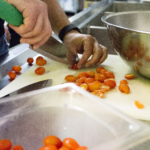 Look and Feel Better FAST!
Register NOW! It's just $149! 

Once registered,  please take the following steps to get started!
Schedule your Group Fitness Assessment as soon as possible.  Our first Group Assessment is on Saturday, January 19th between 11 am and noon and the follow up is on Saturday, February 16th 11 am until noon.  These Group assessments are included in your program.


If you cannot make those dates,  you may schedule a private assessment with one of our trainers for $10. Email us today!
Ask to Join our T School Support Group.  Click here to submit request.


Our official CLEAN 21 Sugar Detox will begin on Sunday, January 20th, but you may start as soon as you register and receive your program materials.
Got questions?
Email us today!
We're here to help because this is WHAT WE DO!  For Real!
Thank you!  Tricia and Tina