Join Team 1901 as we work together to raise awareness and money for Breast Cancer research.
October is Breast Cancer Awareness Month and Pilates 1901 wants you to help the cause by attending our SAVE THE TATAS SATURDAY  this month!
Join Tina as she introduces you to Pilates Peep of the Month, Kathy Woods, a seventeen year breast cancer survivor who has a special challenge for you.

Classes are FREE for all participants and their guests on TATA Saturday, October 11th for those who make a donation to the Avon Foundation.   
To reserve a spot for your guest, simply email us at info@pilates1901.com today!
WANT TO DO MORE GOOD?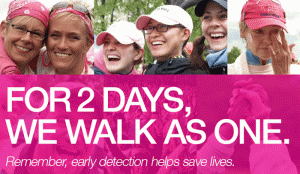 Click here to email Kathy to become part of  TEAM 1901 for the AVON WALK FOR A CURE 
or click here to register directly for TEAM 1901
Join NOW to participate in our TEAM TRAINING with Coach Miriam Feingold to make sure you are in the best shape of your life to  prep for the 39 mile walk in Chicago next June.
Because the life you save could be your own!