AND she's our Pilates 1901 Peep of the Month!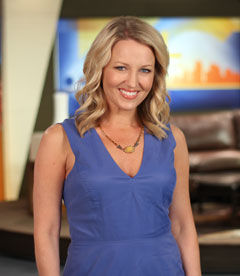 At Pilates 1901, we know our best asset is our wonderful clients. That's why we feature one of you each month.  This way you get to know your class mate better and understand why we love coming to work each day!
Michelle Davidson first came to 1901 as part of an assignment for her job.  As co-host of the KCLIVE Morning show on KSHB, Michelle was exploring different types of workouts offered by local gyms and studios.  She visited one of our Cardio Tramp classes and liked it so much that she joined our studio.  That was three years ago and she's still an avid participant in our noon and weekend workouts.
I got to know Michelle better this year as a frequent health and fitness guest on KCLIVE, but I didn't know until recently just how talented she and her co-host Joel Nichols are!  In addition to hosting the show, Michelle is an actress, a writer, producer, film maker, director, wife and mom!  Her films have won awards at the Kansas City and Austin film festivals, an Emmy for best short film, and a prime time Saturday morning television spot with her series, "The Inspectors"
She and Joel collaborated on a short film called "The Perfect Note" which Michelle directed and Joel co-wrote and starred in.  You can view it at the end of my interview with Michelle.  Take a moment to see why we're so impressed with Michelle and all she has to offer.  Thank you for sharing Michelle!
Find out more about Michelle's work by visiting her website: www.michelledavidson.net  or looking for her new movie Arbor Demon on VOD (video on demand).
---
If you're interested in improving your body, your spirit and your energy,  we're here to help!
Email us at info@pilates1901.com today!