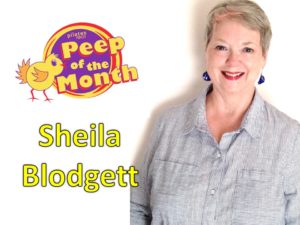 Each month we love featuring one of our incredible clients as our Pilates Peep of the Month!  Read on and see why!
Sheila Blodgett came to Pilates 1901 nearly five years ago when, new to the area, her daughter recommended she purchase a Groupon for Pilates 1901.
Struggling with a back issue, Sheila was also overweight and out of shape when she first came to Pilates 1901.  Despite that, Sheila took the challenge and began coming to classes, surprised and delighted that Pilates was a form of exercise that she could adapt to her current fitness level.   She began to feel stronger, lose weight and inches…Sheila was hooked!
When asked who they'd like to nominate for this month's Peep of the Month, our staff unanimously supported instructor Miriam Feingold's suggestion that Sheila be our choice!
Take a few minutes to find out why we all love Sheila and appreciate her being a part of Pilates 1901!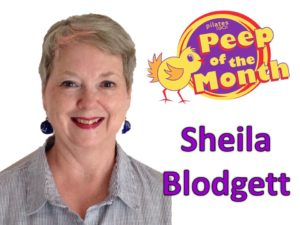 Congratulations Sheila!  Thank you for sharing why you say you want to be a part of Pilates 1901 "FOREVER!"
"The thing that makes Pilates 1901 so different is the instructors, classes and community.  I've learned so much from being a client here- I don't have to wonder what to eat or how to move or how to get support.  I joined T School and have found an amazing community of friends and supporters.
And as I've lost weight, inches and gained strength, I have been able to try new classes and also work harder in the classes I was already attending to keep getting stronger.
I've been a client here for almost five years and I've learned so much from T School and the community here that I think it's safe to say, I'll be here forever!"
We sure hope so Sheila!  🙂
---
If you're interested in improving your body, your spirit and your energy,  we're here to help! For more information on getting started with us at Pilates 1901, click here.