Pilates 1901 is blessed to be able to work with amazing clients every day.

 
Where else can you come to work and find motivated people who want to improve their health and well being?  
We actually get to wake up in the morning, go to work and love what we do and who we're doing it with!
It doesn't get any better.
This month we'd like you to meet the incomparable Jen Bjelich who has been a loyal client for the past few years.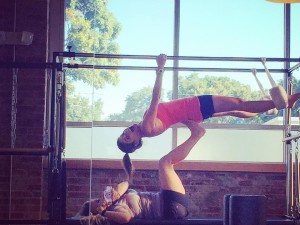 Jen works with Megan Smail in private session and in classes.  They've not only worked out together but become fast friends.
That's what can happen when you spend hours together working out and improving your body and your life!  Your body isn't the only thing that transforms at Pilates 1901!
Take a look at this quick video and you'll see why we all agree, they're perfect together!
Thank you Jen and Megan for being so YOU!  We love your energy, youth and enthusiasm for 1901 and for life!
If you'd like to find out how to get started at Pilates 1901, click here.    You'll be glad you did!