As you know, each month,  we feature an exceptional client as our Pilates 1901 Peep of the Month.  This month it's my great pleasure to introduce you to my favorite client ever, Mr. Herbert Hadley Warmbrodt, Jr.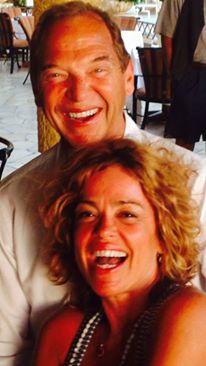 Now, some of you might be smirking about now, since this fellow is also my best friend, life partner, roomie, and main squeeze, but I assure you, this is not a case of nepotism, but a well deserved accolade for a very loyal client, long overdue.
Herb and I first met around the water cooler.  This water cooler happened to be located in one of my earlier businesses, The Sweat Shop, located in Waldo around 74th and Broadway.  His wife at the time was also a client of mine and suggested he try aerobics to lose some of the good life that had accumulated around his middle.
So he showed up at 830 am on a Saturday morning in 1987, and like everything he does, gave it his all in our entry level Cardio Basics class.  I would not have noticed him had my desk person not pointed out the 'new guy' looked VERY red and sweaty and perhaps I should go and check on him.
When I asked him how he was doing (like was he going to have a heart attack), he flashed me that winning smile and replied. "I'm fine!  I'm great!"  Truthfully he looked like he might pass out, but his attitude overcame… and my introduction to Herb Warmbrodt was complete. Believe it or not, when I met him, Herb weighed around 230 lbs!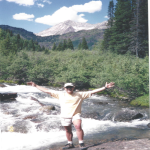 For the next eighteen years Herb remained my client off and on, following me to Woodside in the 90's when I closed the Sweat Shop.  We didn't know each other well, but if you've ever met Herb, you know it's not hard to feel like he's your best friend.  He is a salesman, after all.
In 2005, after returning to Kansas City, Herb re-appeared in my life.  Little did I know then that our friendship would take a slow but steady turn upward.  Now, eleven years later, I am very happy to say he his my mate.  When I asked Herb if I could feature him this month, he just rolled his eyes and laughed, but he truly is an awesome example of what we try to do at 1901.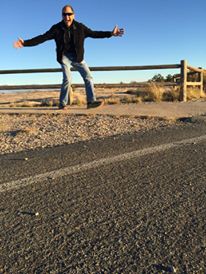 At 60++ he's in the best shape of his life, doing a combination of Pilates, Bootcamp, walking and weight training. He watches his diet, eating clean which keeps him (and by default, me) lean for our ages.  He sees the best in others, has an unstoppable positive approach to life, and loves to play the game at work.  Most of all, he is patient and kind, which, as you can imagine, I am most grateful for in someone as a partner.
Herb always likes to say how much he has learned from me through the years.  "I wouldn't be in this kind of shape, or feeling like I'm in my 30's without your guidance… and now I'm learning all about meditation which I would not have discovered without you."
But the truth is, it's what I have learned from Herb that makes my life so spectacular. First of all, laugh.   As Herb says, "I might as well be having fun because I'm gonna die some day!" And so I do laugh– a whole lot more because Herb is one of the funniest people I know.  I often find myself crying because I'm laughing so hard and saying, "do other people know how freaking funny you are?"
I've also learned to be more adventuresome. On our first trip "climbing" (it was really just hiking), I cried when traversing a ridge that scared me as I had an intense fear of heights.  He ignored my tears and just kept walking ahead of me… which really pissed me off.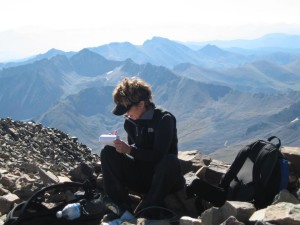 Later that night, when we were done with that long and agonizing day on Mount Sopris, I asked him if he'd heard me crying on that pass.  He said, "yes."  "Well why didn't you say anything?" I countered, a little indignant.  "I didn't think it would help," he replied.  And, of course he was right.
Herbert taught me about boundaries and empowerment and self reliance.  The next day I climbed my first 14'er, Castle Peak, and he took this picture as I signed in.
That was in 2006 and we haven't stopped climbing (or hiking or biking or ice climbing) since.
Herb also taught me that it's important to take care of things.  I always tell my lady friends who are looking for a good man, "get someone who grew up on a farm.  They know how to work and fix things, and they know how to get sh!t done."   When we moved back into the bungalow I'd rented and then purchased as a single parent in the late 90's , we gutted it and made it into a our own haven.  When my former landlord was in town and drove past the house, he knocked on the door and asked to see the house, he was so amazed at it's transformation.  Come to think of it, my own kids can't believe it's the same house!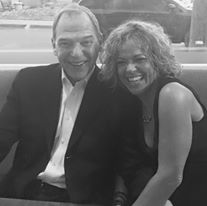 Herb is also amazingly kind and supportive.  When I was taking care of my folks as they aged, he listened to all of my crazy mother stories and helped me laugh about it.
When I had to had my hip replaced (each time), Herb was there to help me with my walker, my high potty and my pain.  And when his own Mother was failing (she was almost 102!), Herb racked up the miles driving to Booneville, often multiple times per week, to tend to her care and visit with her and make her feel better.
And so you can see why Herb deserves to be our Pilates Peep of the Month.  He's simply the bomb. When you see him, give him a hug.  He loves them.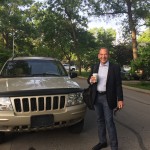 This is a video I made a few years ago about Herb and his jeep.  He still has this jeep and it's a testimony to the way he takes care of things.
This morning, when I took this pic of Herb on his way out of town for work, it had 327,580 flipping miles on it and it's still looking brand new.
Kinda like Herb if I do say so myself.  Enjoy!
Thank you Herb for representing so well.  I owe you!  t
To find out more about getting into the best shape of YOUR life, click here!