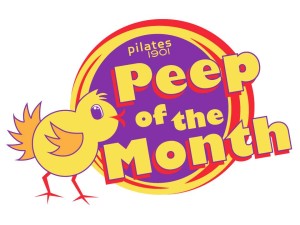 Each month we love featuring one of our incredible clients as our Pilates Peep of the Month!  Read on and see why!
Connie came to Pilates 1901 because her daughter, Tricia had had a tremendous health transformation by changing her diet via our T School program.
Connie too was struggling with her own health issues and was tired of feeling depressed, overwhelmed and lethargic.  Nervous about starting something new, Connie nevertheless prevailed and came to the studio in the Fall of 2014. Take a moment to listen to the changes that joining a community like ours has provided her to improve her quality of life.

Congratulations Connie!  Thank you for sharing your story!
"Before I found Pilates 1901, I was struggling w/fibromyalgia (on pain therapy for neck and back issues), overweight, very discouraged, doing very little exercise but short distance walks. My diet wasn't all that good and  I was a sugar addict.
I wanted to be in an environment where I felt comfortable and could get help learning how to exercise without hurting myself, particularly to gain strength. I wanted to lose weight and my daughter Tricia had already talked to me about the right foods and learning an eating lifestyle.
Now, I am walking about 1 1/2 miles several days a week, slowly getting into beginning Pilates classes including Basic Zumba (love it!). I am eating better food, having less desire for sugary foods, beginning to experience less pain and keeping a few lbs off.
T School has given me an amazing education about food and how it works in your body. A most rewarding thing has been the wonderful people I have met here, the warmth and genuineness of this community and how that has encouraged me to keep going until my goals are reached and maintained! 
Looking forward, I envision  having the strength and energy to play with my grandkids, hike in the mountains, swim in the ocean (in perhaps, some measure of beach-ready body, somewhere exotic!), travel to places I've longed to see, and continue to pursue a lifestyle of informed nutrition and exercise.
This is so I can have the energy for, and enjoy doing these things with my husband, kids and grandkids. I anticipate staying as healthy as possible so I can be productive into my later years, which includes serving my community. "
---
If you're interested in improving your body, your spirit and your energy,  we're here to help! For more information on getting started with us at Pilates 1901, click here.