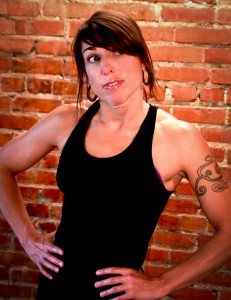 Miriam Feingold is a STOTT PILATES® certified instructor who exudes a genuine compassion and sensitivity for the daily struggle most face in maintaining a healthy, vibrant and strong lifestyle. She also holds a CrossFit Level I Certification which makes her uniquely qualified to train with athletes and clients of all abilities.
Miriam' s eclectic approach to life and fitness has always included the immeasurable benefits of Pilates. She is a graduate of the Kansas City Art Institute with a BFA in painting and a BA in illustration. Miriam has had the pleasure of teaching child and adult art education for eight years.
Her love and abilities in the arts help drive her creative design for each individual client's needs. Miriam looks to help sculpt willing bodies into works of art.
Some of Miriam's background includes skating and bench coaching for Kansas City Roller Warriors National Championship Roller Derby league for five years, various forms of dance performance and training, CrossFit team, and individual competition and yoga. She also teaches CrossFit and Bootcamp classes at Crossfit on 18th for over seven years and has been teaching group classes and private clients at Pilates 1901 and personal training at Personal Advantage for over seven years.
To schedule an appointment with Miriam call her at (816) 550-6397 or email her at miriam@pilates1901.com
Our expert staff is trained by internationally recognized STOTT PILATES® and other disciplines to insure our students achieve their goals effectively and safely.