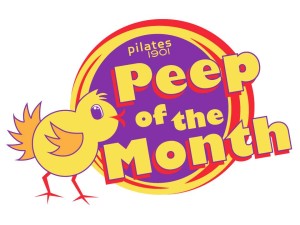 Each month we feature one of our 1901 family as our Pilates Peep of the Month!
This month I could not be more happy or proud than to introduce you to someone who helps define what it is we seek to achieve at Pilates 1901.
That means living by example; continuing to learn and grow, and serve others by following her passion for health, wellness and nutrition.
A veteran trainer at Pilates 1901, Cara Gilmore offers her clients and class participants the opportunity to improve their bodies, minds and spirits in each workout and class that she teaches.  She's been with us for ten years now and we wanted to say thank you by acknowledging her hard work and dedication.
Cara has just enrolled in the Institute of Integrative Nutrition, a year long course to help her become a certified Nutrition Coach and expand her service to others in living their best lives.

And don't miss Cara's FREE
Pop Up Workshop on Saturday, June 25th!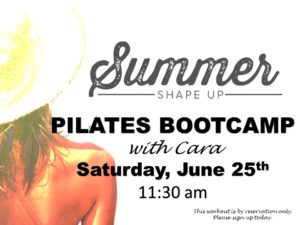 Join Coach Cara, one of Pilates 1901's most experienced trainers, for a body weight based Pilates Bootcamp workout designed to keep you fit for Summer and beyond!
Designed for you to be able to do any time, any where, this no prop body weight only workout will be broken down in detail to allow you the best form and technique for doing on your own.
Don't sacrifice your fitness this Summer- this Travel Workout will take you less than 20 minutes and keep your body lithe, supple and firm!

What could be better?  Oh yeah, it's FREE.
Because we love you!  Reservations are required so sign up NOW!
---
If you're interested in improving your body, your spirit and your energy,  we're here to help! For more information on getting started with us at Pilates 1901, click here.