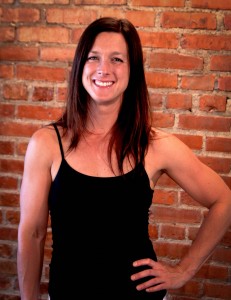 Cara Cockrill believes in challenging her students using four main elements: endurance, strength, balance and flexibility. As a personal trainer, Cara challenges her clients to "get out of thier comfort zones" to get maximum results. As an avid runner and endurance athlete, Cara has completed several half and full marathons, including her recent 40 mile "ultra marathon" this Spring. Cara walks the walk AND runs it too, specializing in Pilates training for athletes and marathon runners
Cara is a certified STOTT PILATES® Reformer and Mat instructor. She has also studied the STOTT PILATES® training for Advanced Mat, Cadillac, Chair and Barrels. She found the training to be personally challenging as well as extremely helpful in providing more for her Pilates and Personal Training Clients. In addition to all of this Cara is also a certified CrossFit instructor which makes her one talented and scarey trainer!
Cara has been a part of Pilates 1901 for over 6 years and teaches a variety of classes at the studio. For more information on training with Cara,  email her at cara@pilates1901.com
Our expert staff is trained by internationally recognized STOTT PILATES® and other disciplines to insure our students achieve their goals effectively and safely.